cumbia-telegram: a Telegram bot to chat with the control system
Announcement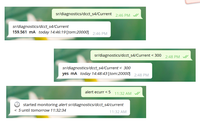 The cumbia-telegram bot is a small server employing the Telegram bot API to establish a communication between an authorized user  and a control system managed by the cumbia libraries. It can be used to:
get notifications about the control system status
read any source supported by the control system engines
employ formulas to get custom notifications:  alert  sr/diagnostics/dcct_s4 < 10
Special care has been taken in realizing a safe application that protects the control system from both overloading and unauthorized access. The interaction with the messaging application is made effortless by the history, bookmark and alias modules. They promote tapping rather than writing. Read more on the cumbia-telegram dedicated page.
Back to news list