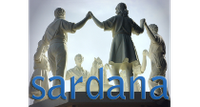 Leads
Contributors
Description
Sardana is an open source software suite for Supervision, Control and Data Acquisition (SCADA) in scientific installations. It aims to reduce cost and time of design, development and support of the control and data acquisition systems.
Sardana, thanks to the Taurus library, allows the user to build modern and generic interfaces (both GUI and CLI - spock) to the laboratory instruments. It also delivers a flexible Python based macro environment, via its MacroServer, which allows custom procedures to be plug in and provides a turnkey set of standard macros e.g. generic scans. Thanks to the Device Pool the heterogeneous hardware could be easily plug in based on common and dynamic interfaces.
Sardana development was initiated at Alba and evolved into an international community of users and developers that now maintains the package.
You can download it from PyPI, access its documentation or get support from its community and the latest code from the project page.