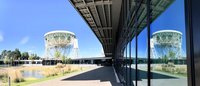 TANGO Community meeting 2023
Event
SKO HQ
Dear TANGO community,
the registration for the 37th TANGO community meeting is now open.
The annual gathering of TANGO Controls developers and users will be hosted in the SKAO headquarters, near Manchester, UK, and remote participation is also possible in a hybrid format.
We will start on the 27th of June and the meeting will run for two and a half days. We will have the usual sessions for a status update from the different facilities, from the kernel development and from the various tools composing the TANGO ecosystem. 
The program is still flexible and we wait for your abstract submissions in order to finalise the complete schedule. 
We have identified some areas of focus where we encourage submission of abstracts: design of new TANGO-based systems and how they map to new application domains outside of synchrotron facilities, use of web based tools with TANGO, Software lifecycle management and CICD. 
The agenda is flexible and we certainly can accommodate any topic of interest for the community, so don't be afraid to submit your abstract! 
The plan for the last half day is to run parallel workshops inspired by the discussions happening on the previous days. 
At the side of the main meeting there will be chances to socialise during the social dinner and to explore the world of radio astronomy by visiting our neighbours at the Jodrell Bank Observatory.
Register at:
https://indico.tango-controls.org/event/57/
and submit your abstract!
Back to news list