SKA choose TANGO for the world's largest radio-telescope
Announcement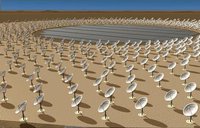 The Square Kilometer Array (SKA) project is an international effort to build the world's largest radio telescope over a square kilometer of collecting area. The number of controlled points, the huge amount of data produced, the computation requirements and the network traffic to be handled represent at the moment the most challenging technological issue in the world.
South Africa's Karoo desert will host the core of the high and mid frequency dishes, ultimately extending over the African continent. Australia's Murchison Shire will host the low frequency antennas.
Organisations from eleven countries are members of the SKA Organisation – Australia, Canada, China, Germany, India, Italy, New Zealand, South Africa, Sweden, The Netherlands and the United Kingdom. 
This global organisation is managed by the not-for-profit SKA Organization, who have the SKA Office at the Jodrell Bank Observatory, near Manchester in the United Kingdom. 
End of March, after comparative tests of several major control systems addressing more than 140 criteria, TANGO was considered the most promising for SKA requirement,
TANGO was chosen as the SKA phase 1 common framework for all the work packages. This means, since the SKA project include several research institutes from several countries spread all around the world, this is a very good chance to increase the diffusion and growth of TANGO community both in international and interdisciplinary fields.
Whilst 11 member countries are the cornerstone of the SKA, around 100 organisations across about 20 countries are participating in the design and development of the SKA.
Back to news list