History
The original proposal for TANGO was made in a paper written in 1998:
TANGO - object oriented device control implemented in CORBA and DCOM by W-D.Klotz, A.Götz, E.Taurel and J.Meyer   31/7/98
It built on the ideas of a previous control system developed at the ESRF called TACO which was based on RPCs. The concept of Devices in a Device Server as the key concept was developed in TACO and then refined and improved in TANGO. The first international presentation of TANGO was at the ICALEPCS conference in 1999 in Trieste (Italy) in a paper entitled:

Tango an Object Oriented Control System based on CORBA (33.9 KB) by J-M.Chaize, A. Götz, W-D.Klotz, J.Meyer, M.Perez and E.Taurel
TANGO started at the ESRF in 1999 but was soon joined in 2000 by the controls team from the Soleil Synchrotron. The two institutes co-developed the first versions of TANGO. They were then joined by Elettra, ALBA, and DESY. The community quickly grew and today counts over 20 sites.
Ten years of TANGO Controls history in 5 minutes
A graphical representation of the development of TANGO Controls
tango core 3min gource from Tango Controls on Vimeo.
Releases
The major releases of TANGO, the Device implementation version and major features have been:
V 1 (10/1999) -  Device_1 - original version
V 2 (04/2002) - Device_2 - added polling mechanism
V 3 (06/2003)- Device_2 - added logging, serialisation, asynchronism
V 4 (03/2004) - Device_2 - added events
V 5 (01/2005) - Device_3 - added new model for to coinge attributes
V 6 (06/2007) - Device_3 - ported to omniORB 4.1
V 7 (04/2009) - Device_4 - added device locking, efficient transfer of attributes data, atomic write_read
V 8 (07/2012) - Device_4 - replaced omniNotify events with zeromq events
V 9 (10/2015) - Device_5 - added Pipes as new communication channel
Awards
In 2011 the ICALEPCS Lifetime Achievement Award was given to :
Emmanuel Taurel (

ESRF

)
Nicolas Leclerq (SOLEIL)
Pascal Ver

d

ier (

ESRF

)
for their contribution to the TANGO collaboration over the last 10 years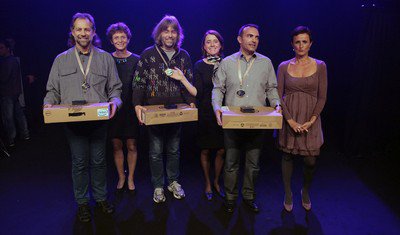 ICALEPCS 2011 Award